Affiliate Information Page
Become an affiliate on Click Bank and sell our downloadable products!
Affiliates earn 50% commission!
To earn 50% on any sale you refer to us, sign up for a free account at http://www.clickbank.com/promote_products.html. Once you have an account, visit the marketplace and search 'Doggone Crazy', find the ad for Doggone Crazy! Puppy Products, and click promote!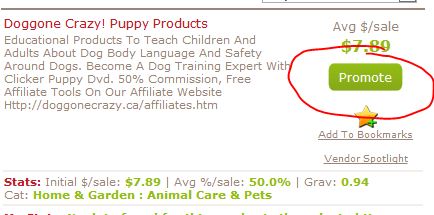 OR
CLICK HERE if you already have a ClickBank account.
Then simply direct traffic to the given link, and you'll earn 50% of our sales! ClickBank handles all of the affiliate tracking and payment processing. You can learn more about the process at http://www.clickbank.com/index.html.
To direct traffic from your website you can insert the link from Click Bank into a text link or attach it to one of the images we have provided below
Free Affiliate Tools
Be a Tree Kit Marketing Information:
What's in the Kit:
A set of 15 jpeg files to print high resolution posters 11" x 17"

A pdf file containing the script that goes with each posters that you can affix to the back of the posters after you have the posters printed

A wmv file video that shows a demonstration of the entire program

A Power Point show that you can use with a projector for large groups

A full script and 1 page script summary as well as all handouts from the kit
Link to more details - you may use any text or image at this page for marketing purposes
Link to demo of the Power Point version
Testimonials:
"I love 'be a tree' (and 'be a rock'). It's the best of its kind. This information has to get out there", said Jean Donaldson – Internationally recognized dog behavior expert, award-winning author and director of the Academy for Dog Trainers.
Clicker Puppy Keywords:
dog training
puppy training
clicker training
clicker dvd
train sit
train down
train wave
train leave it
kids and dogs
kids and puppies
children train puppies
kids clicker train
children clicker train
dog training dvd
Flashcards Keywords:
dog body language
dog flashcard kit
speak dog
safe dog
dangerous dog
dog communication
canine communication
canine body language
read dog emotions
dog body language ebook
speak dog ebook
dog flashcard ebook


Dog Detective e-book Keywords:
dog safety
child dog safety
online dog safety
child puppy safety
read dog emotions
dog body language
dog detective
Clicker Puppy Review
For a full review of the clicker puppy DVD from the Old School House Magazine, click here.
Testimonials
Clicker Puppy is Karen Pryor approved! Karen is the queen of clicker training and an internationally recognized expert in the field of behavioural biology. She is the author of numerous books and scientific papers, including the best selling Don't Shoot the Dog: The New Art of Teaching and Training. If you haven't read this classic book - you should!
Here is what Karen Pryor has to say about Clicker Puppy...
"So easy even a child can do it...This delightful show goes right to the heart of what clicker training is all about. You'll see boys and girls teaching VERY young puppies sometimes in a minute or less. A wonderful new way to learn clicker training!"
Karen Pryor, CEO, Karen Pryor Clicker Training and Author, Don't Shoot the Dog - The New Art of Teaching and Training (www.clickertraining.com)
"This excellent and engaging DVD teaches people of all ages how to teach their companion animals good manners. At the same time, it teaches empathy and stresses safety. A great resource for parents and children!"
Lynn Loar, Ph.D., LCSW, President, Pryor Foundation and Co-author, Teaching Empathy: Animal-Assisted Therapy Programs for Children and Families Exposed to Violence (www.latham.org)
"It's wonderful to have a clicker training video on the market now that's geared especially for children and puppies. You did a great job covering all the bases -including basic obedience, essential manners like sit-to-greet, and tricks, too! We loved how the training was shown in real time, and the quick results the kids got with all the pups thanks to the very clear teaching steps you laid out."
Virginia Broitman and Sherri Lipman - Creators of the Bow Wow series of clicker training videos and Clicker Expo faculty members (www.takeabowwow.com)
Images