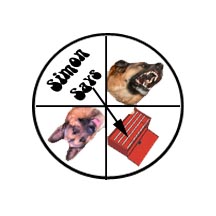 Use the spinner for activities after the teaching part of the session...
Snarly Dog - everyone be a tree
Panting Dog - everyone be a happy dog
Toolbox - volunteers act out a scenario - audience shouts out which tool to use
Simon Says - everyone plays Simon Says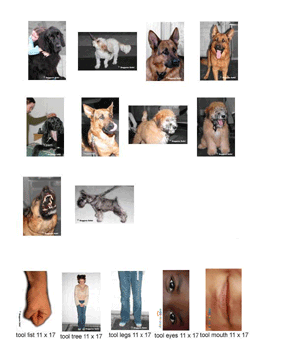 The Doggie Detective program (known from 2004-2016 as the "Be a Tree" Program has been delivered to over 1,000,000 children. It is supported by the Ontario Veterinary Medical Association, the Saskatchewan Veterinary Medical Association and Veterinary Technician/Technologist Associations across Canada. Veterinary technicians/technologists in Canada can earn CE credits for delivering the program - check with your professional association for details.
Hats off to the best educational package I have seen in years and a great public service that goes a long way to getting the message out about dog bite prevention and working toward eliminating dog bites to our children.
Lisa Grey - Canine Behavior Consultant and Specialist; Bite Prevention Educator with BCSPCA (former); Senior Trainer - Canines with a Cause; Senior Instructor - Adolescents at Risk and Canines Ontario; Owner Natural Bond Canine Consultants, Ontario, Canada
I have reviewed the materials from this program and will be utilizing this material when teaching the second graders of Longmont, Colorado. The materials provided are great tools in teaching animal safety.
Robin Breffle, Community Service Office, Animal Control, Longmont Police Department, Longmont, Colorado
My experience as a classroom teacher of 35 years taught me that children learn by doing, practicing and playing. This program is a great teaching tool. Lots of role playing and repetition until the children have a patterned response to an aggressive dog. Fast paced and fun.
Sherri Utter, Retired Elementary School Teacher; Animatch Volunteer, Quebec, Canada
As a Canine Behavior Consultant and Special Education Teacher, I am very impressed with the Doggie Detective program. This fun and interactive program involves kids every step of the way as they learn the tools to make safe choices around familiar and unfamiliar dogs. I am impressed when I return to the classes several weeks later and the kids still remember all of the tools and can tell me some things that dogs do that indicate they may be stressed. This program empowers kids to make better choices through awareness and education. The Be a Tree teacher's kit comes with beautiful clear poster-sized photos that are helpful for teaching children and adults alike. The easy-to-follow script is conveniently printed on the back of each poster to help the presenter stay on track and be at ease during their presentation. This really helps to minimize tangents and stay focused on the key points of the presentation.
Jennifer Shryock, Canine Behavior Consultant, Creator of Dogs & Storks Workshop, Cary, North Carolina